China-Africa Power and Clean Energy Cooperation Forum
Our general manager Ms. Teng Aihua was invited to attend the China-Africa Electricity and Clean Energy Cooperation Forum on June 15, 2015, and delivered a speech at the meeting. The theme of "Farewell to the Darkness and Sharing the Sun" set off the climax of the meeting and won the leadership of the meeting. 1. The approval and enthusiastic response of the envoys of various countries.
The conference was organized by the China Industry Overseas Development Association, the China Electric Engineering Society Power System Professional Committee, the International Cooperation Center of the National Development and Reform Commission, and Devi's International Exhibition (Beijing) Co., Ltd. Smart Grid Summit and China-Africa Power Forum and Exhibition (CEFE)".
During the meeting, the Minister Counsellors of Egypt, Nigeria, Ethiopia and other countries delivered speeches, which discussed Egypt's energy investment strategy and development opportunities of Chinese companies, Nigeria's energy system reform and investment, Ethiopia's energy investment environment, and cooperation between African power and Chinese companies. problem.
The theme of the summit was "New Normal, New Opportunities: Seeking the Strategic Cooperation Point of International Power Cooperation", focusing on power technology exchange, power equipment display, and clean energy investment and financing cooperation, to promote the exchange and cooperation between Chinese companies and African energy and power companies.
Our general manager Teng Aihua and UN UNIDO expatriate Sha Keqing, our international marketing department Shamir and Li Jie jointly participated in this forum, through the forum to show the development history of our company, business status, corporate culture , Has won everyone's praise and cooperation intention. The forum was a complete success.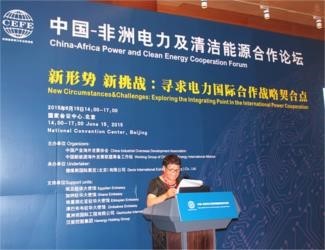 Address: Room 501, building 2, yard 5, Yingcai South 1st Street, future science city, Beiqijia Town, Changping District, Beijing
Tel: 010-89759601 Mail : sales@polysolar.cn
Copyright information: Poly new energy technology (Beijing) Co., Ltd